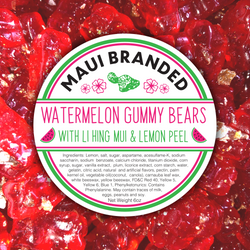 Watermelon Gummy Bears w/ Lihing-Lemon Peel 6oz.
Another great tasting treat by Maui Branded, these Watermelon Gummy Bears with Lihing Mui and Lemon Peel will get you wanting more! The sweet Watermelon gummy bears and lihing mui complimented with lemon peel is sure to make your taste buds satisfied.
Packaged in a clear, air-tight container.